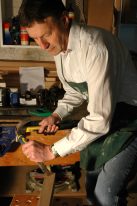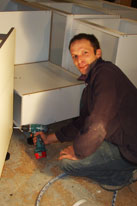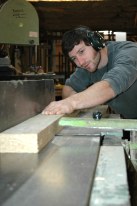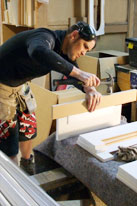 Processes
These days it's nearly impossible to find the kind of artistry and quality that was commonplace in the days before prefabrication and do-it-yourself kits. Craftsmen took great pride in their ability to produce work that was not only beautiful and functional, but was built to last — for a very long time.At Lummis Joinery we have developed a method of customized creation that provides you with the quality of yesteryear at a price you can afford. Here is how we do it:
Initial Visit
When you call us and request an estimate, we will arrange a time to visit your home or business. When we arrive, we will listen carefully to your ideas and ask questions to determine exactly what you have in mind. We will also take measurements and photographs of the existing area where the project is to be installed.
Floor Plan & Quote
We will then get back with you a day or two later with a set of floor plans for the proposed project, with an itemized quotation of the cost. We won't move to the next step until you are totally happy with the general look, functionality and cost of our proposal.
Material Selection
We will then have you come by our facilities to select your materials, detailed styles, and coordinated colours.
Component Creation
We will then begin fabrication of the various components of your project. You will typically be asked to come to our facilities at least twice in order to see the work in process and to confirm that what you saw in your mind's eye is indeed what is being produced. This will allow us to make adjustments along the way, should that be necessary.
Installation
We typically begin our installations on a Monday and finish by the weekend, allowing you to invite your friends and neighbours over so you can show off your new work of art.
With Lummis Joinery, you get exactly what you're looking for without any surprises.